INTEGRATION ENABLES HOLISTIC HEALTHCARE SERVICE
Every tool used by a contact center can be integrated into a single interface. Build your workflows in one place. Automate actions across all your contact center tools. Let agents focus on the patient with knowledge of his or her specific context. Get an overview of your entire service with unified and holistic reporting.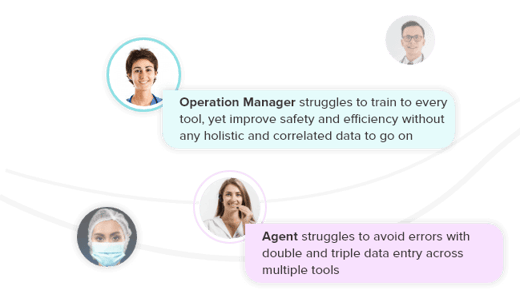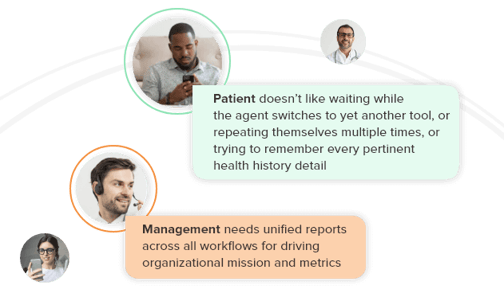 Instead of juggling a jumble of tools, combine them into a single seamless agent experience. Health Desk supports an incredible number of integrations, and adds more all the time.
When a call comes in, the agent's screen is popped with CTI, and they are automatically logged in with SSO. The patient is automatically searched with EHR integration, and a single click opens the patients' visit history, health history, meds, problem list, prior calls, past appointments, future appointments, and more. This data informs appointment scheduling, call types, checking symptoms, and more. Every service channel is visible in a single queue. Paging integration is used whenever a provider needs to be paged, email and text integrations are used for secure messaging, and fax integrations for faxing. All documentation is written back to the chart.
TYPES OF INTEGRATION
ELECTRONIC HEALTH RECORD INTEGRATIONS
Patient information is pulled from the EHR. This data is used as input for Symptom Checker, Intelligent Scheduling, Patient Self-Scheduling, and Nurse Triage.
Write back to the EHR to document encounters in the patient's chart and to send messages & tasks to providers and their care teams.


CLINICAL DECISION SUPPORT CONTENT INTEGRATIONS
Evidence-based content is necessary for clinical safety in clinical support tools. Use gold standard decision support tools created by sources just as Schmitt Thompson Clinical Content and Harvard Medical. 75% of clients also create their own content.

MESSAGING INTEGRATIONS
Manage all your messaging in one place with Messaging Manager. Unified HIPAA compliant text, secure messaging, and fax requires agents only learn one interface, and most of this messaging can be sent automatically without agents having to take their valuable time to execute on it.


PRACTICE MANAGEMENT INTEGRATIONS
Not only can you give your agents a simple view of patient past and future appointments, but also maximize provider and patient preferences in scheduling, while simplifying the process of scheduling for your agents. Waitlist features protect you from lost revenue from cancellations. Your providers keep control of their schedules while your schedulers focus on the patient.
COMPUTER TELEPHONY INTEGRATIONS (CTI)
Computer Telephony Integration allows Health Desk to use telephone data to optimize and streamline the telephone call. Automatically pop screens, autosearch for patients, and incorporate IVR entries into scripts and guidelines. Build call flows and automation that take into account every piece of detail gathered from the phone system. Automate outbound calls based on advanced call handling logic. Generate holistic call metrics and reports that correlate satisfaction metrics to every telephony and handling metric in the entire process.


HEALTH EDUCATION INTEGRATIONS
Educating patients is critical for engagement and compliance. Health information should be at your nurses' and physicians' fingertips as appropriate, and each encounter should be followed up with related education that not only informs the patient, but reinforces the care advice they were given. Health Desk integrates a number of content sources or your existing custom content.
AUTHENTICATION/AUTHORIZATION INTEGRATIONS
Users can single sign-on by integrating into your existing systems' authentication and authorization. Whether you need users to single sign-on through the electronic health records, like Epic Systems or Allscripts, or through your phone system, or perhaps directly to your Microsoft Active Directory domain, we have you covered.


SALES/MARKETING CRM INTEGRATIONS
Add clinical rules and automation for optimizing service delivery to your sales and marketing CRM without new development. By integrating Health Desk with Microsoft Dynamics or Salesforce, tie together next generation of healthcare CRM service to their tools for the patient sales and marketing journey.
LOCATION SERVICES INTEGRATIONS
You never know when that incoming call might be a medical emergency. With address validation and geolocation combined with e911 services, you can help callers get the emergency help they need. Address and mapping is useful for appointment reminders, navigating to new locations, and referrals. These integrations are used in Core CRM, Intelligent Scheduling, Patient Self-Scheduling, Service Referrals, and Messaging Manager.