HIPAA-COMPLIANT EMAIL, FAX, TEXT & MORE
Use 1 tool for all communication needs. With Messaging Manager, hide the complexity of managing HIPAA compliant chat, SMS, faxing, email, & EHR messaging behind 1 simple interface. With pre-built templates, quicktext & automation, your agents simply follow screen prompts and shift focus back to patient service... not process.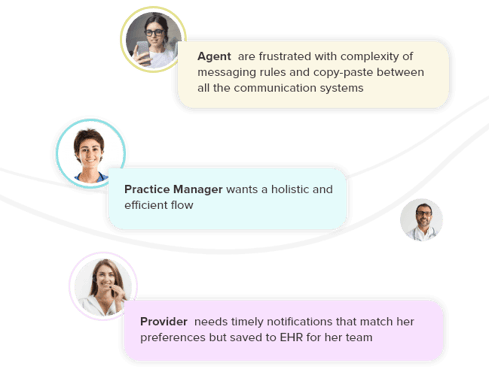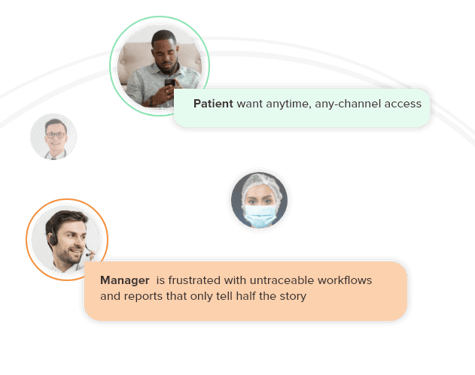 Care Desk Messaging Manager manages all your contact center written communication. It is a comprehensive, HIPAA compliant
healthcare communication platform

, integrated into your workflows.

UNIFY OMNICHANNEL OPERATIONS
● HIPAA compliant email through secure messaging
● HIPAA compliant text
● HIPAA compliant video conferencing
● HIPAA compliant fax



SAFETY AND DOCUMENTATION

Your patient-interaction teams lose less time with standardized & unified quality communication.

Built-in symptom checkers for text & chat, automatic prioritization, & other smart tools optimize patient safety, while documenting the entire encounter in the patient's chart.

ADVANCED COMMUNICATION TEMPLATES
The text for second level triage must be succinct, while the documentation for the same encounter in the patient's chart must be thorough. Sound familiar? We have you covered! Our communication templates are tailored to the need & allow easy-use of all available data. Want to embed health information or visit specific instructions, including Google maps, and links for follow-up? Not a problem! You can even build advanced calculations using conditional logic!



HOLISTIC REPORTS
Give your management the reports they want across all channels & correlated to your encounters. How many emergent cases resulted in users paging a physician? How many of these pages were returned before the patient was sent to the emergency room? Was the ER notified with documentation? Build the reports you need without a line of code.