REFERRAL SERVICE INITIATION
EASILY MAKE REFERRALS WITH HEALTHCARE REFERRAL MANAGEMENT SOFTWARE
Proactively refer patients to needed services, guide population health metrics and drive patients to preventive medicine -- with one, streamlined tool. Smooth the rough edges from care coordination, benefiting both patients and providers. Our database of services uses the data from your health system to automate the resource-draining collection, approval, education and messaging requirements in one, streamlined place. Improve your community's health and in-house referrals with proactive alerts and logic to personalize care.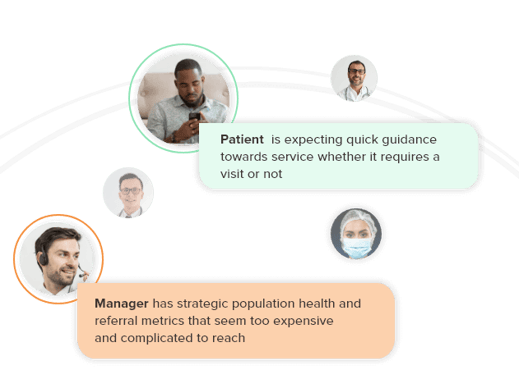 Health Desk Referral Service alerts prompt users for preventive services, annual follow-ups,
community services, and more all based on your logic, patient records, and visit
history. The database is also searchable, allowing for patient requested referral to
services and support. Built into your workflows.

PROACTIVELY OFFER SERVICES
Get in front of your population health needs. Prompt your users to refer patients, based on either the patient history and current chief complaint. Guide patients to the closest service provider and follow-up with information and directions via the communication channel of their choice.



EASILY GUIDE USERS WITH COMPREHENSIVE METADATA
Each service has its own scripting, knowledge base, data collection forms, and geo-location logic. Users simply follow the prompts and don't need to navigate elsewhere or search third-party websites.

AUTOMATE COMMUNICATION THAT BOTH PATIENTS AND SERVICE PROVIDERS LOVE
Automatically coordinate referrals with automated communication tailored to each service you provide. Send the appropriate referral information to both the service and to the patient. Communication templates are tailored to the need and can use any data available, even letting you build calculations or conditional logic. Embed health information or visit specific instructions, including Google maps, and links for follow-up.



HOLISTIC REPORTS
Give your management the reports they want across all channels and correlated to your encounters. How many emergent cases resulted in users paging a physician? How many of these pages were returned before the patient was sent to the emergency room? Was the ER notified with documentation? Build the reports you need without a line of code.