QUEUE MANAGEMENT SYSTEM FOR OMNICHANNEL COMMUNICATION
Care Desk Queue Manager is a powerful tool for managing clinical communication. A single interface for every channel can enables cross-channel logic & reduce training overhead! Clear visual indicators, filters & robust automation take the mental burden off of agents.
A simple, beautiful interface hides complex logic & intelligent automation algorithms that gives your operations team every tool imaginable for queue optimization. Keona's robust design yields amazing performance enhancements that seamlessly scale to hundreds of thousands of encounters.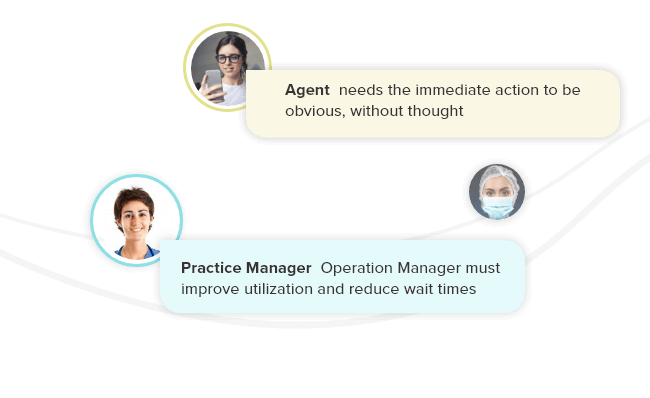 The most holistic healthcare queue Manager on the market today.
Our solution is a completely customizable contact queue manager.
UNIFY OMNICHANNEL OPERATIONS
Healthcare today is rife with independent tools for every situation. The agent must learn a different tool for monitoring queues for telephone, paging, chat, SMS, faxing, email, video conferencing & EHR messaging. Trainers have to create training for each system. Managers have to keep an eye on each system, create QA plans for each system & maintain each system. With Queue Manager you can unify these process branches into a single UI management & reporting interface system!


PREDICT AND OPTIMIZE
Predict the wait time for each queue-channel combination, & use the result to reroute & optimize communication flow.
Set expectations early &give patients options to transition to more efficient channels. Map multiple customer journeys & manage flow across every modality.

HIDE DECISION COMPLEXITY
SLA's may require 5 minute handling in some circumstances & 1 hr in others. Thresholds require transitioning a web interaction to a phone call or in other cases transitioning a phone encounter to the web. With Queue Manager, rules like these are defined on the back-end, & the complexity of the rules are hidden from the agent. Clear stop-light colors indicate user action, & automation handles routing, prioritization & alerts.



IMPROVE SATISFACTION
Patients want safety, responsiveness & transparency.
Queue Manager delivers these without increasing your costs, training & IT bottlenecks!