NLP Symptom Screening White Paper
Patients make unsafe health choices. This is why safe organizations implement a safety screening into their patient access workflows. The traditional method was to use a simple checklist of potentially dangerous situations, often called a "red-flag" list. Unfortunately, mapping patients' actual language to these medical checklists is fraught with problems. Non-clinical agents don't understand clinical terms, miss synonyms Patients accessing your digital front door face the same problems. That's why we built natural language processing symptom screening. Practice safe and easy patient scheduling!
TAKE THIS RESOURCE WITH YOU
Problems

How it works
Natural Language Processing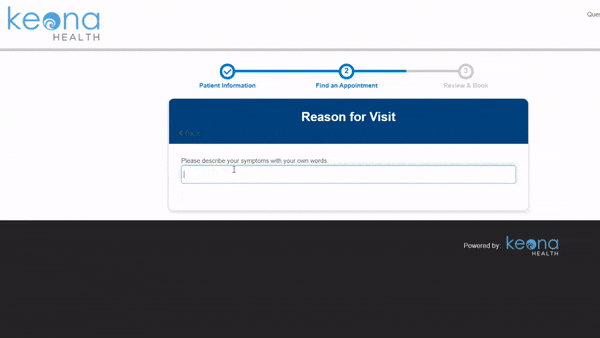 Care Desk facilitates the proper selection of symptoms by natural language processing (NLP) tying client utterances to clinical concepts. No health literacy is assumed on the part of the client, as the NLP supports non-medical terms and slang and the analysis adapts to regional differences.
NLP Stats

Search strings parsed : Over 5 million
Encounters processed: Over 1 million

Natural language to clinical concept mappings:
Over 7,000
Harvard Clinical Content
The Harvard Medical School name is synonymous with best-in-class learning, clinical excellence, and innovative biomedical research—an assurance that the knowledge imparted creates transformational impact. For over 20 years, Harvard's Symptom Checker has helped patients make the safe choice and educated them on the details of their health issues.

The Symptom Checker was created by practicing physicians at Harvard Medical School. The Symptom Checker consists of 120 of the most common symptoms experienced by adults, both women and men, pregnant women, young children, and infants. It works well with a natural language engine as it was built with the goal of simulating a plain language, interactive discussion that a care provider would desire to have with a patient. Information obtained with questions and responses include severity and duration of the symptom, other associated symptoms, and relevant medical history to better direct appropriate care and prepare for a clinician visit.

Depending on the responses, the best next steps based on likely acuity. It guides agents or patients through personalized and accurate recommendations using a combination of patient demographics, expert knowledge, and symptom acuity. Suggested actions for treatment, self-care or prevention are proposed. For example, the action might be "schedule an appointment with the PCP or specialist to discuss your symptoms," or self-treat symptoms following guidelines in the Symptom Checker or related articles.

Read more on the Harvard Health Publishing content.
Custom Content
Some customers choose to create their own content. A hybrid model of utilizing Harvard content alongside custom content is also supported.
Next Steps
Instead of leaving it to the patient to take next steps, the software guides the patient through those steps. It may guide them through scheduling (see "Scheduling Decision Support" below), or it connects them to a nurse for triage, or it helps them launch navigation to the closest ED in the database. This guidance increases client confidence, improves professional safety measures, and results in higher client compliance to recommendations.

Document, Screen, Escalate, and Automate
Benefits
Consistent
No matter the language or slang of the patient, the key clinical concept will be identified and the appropriate screening questions asked, giving consistency and reliability to the screening process.
Quick
Instead of 5-15 minutes, a screening typically screening takes x seconds on average.

Documented
Everything that happens can be documented within the patient's chart

Easy
Staff can use it after just a few minutes of training!

Safe
Decision support ensures automated escalation gets the patient the right assessment by the right provider at the right time

Optimize Nurse & Doctor Time
Help providers practice to their level of training filtering to only those scenarios where their expertise is needed
NLP SYMPTOM SCREENING VS
FIRST-GENERATION SYMPTOM CHECKERS
Care Desk implements a second-generation symptom screening. First generation symptom checkers rely on patients to select the appropriate symptoms and leave it to patients to take the appropriate next steps. Even inside healthcare organizations, most symptom checker users are non-clinical staff. Because of this reliance on those without training, the safest symptom checkers are those which directed more patients to urgent care and emergency rooms, increasing healthcare costs. They are most effective when assisting patients who already have higher education and health literacy.

First generation symptom checkers are also designed to help patients conduct a complete evaluation of themselves. Because of this, they take more time than is needed. A symptom screen is the most efficient approach – quickly identify the acuity of the patient symptoms, and when needed escalate to the appropriate professional for the issue who can perform a complete assessment within the timeframe needed.
NLP SYMTPOM SCREENING IN CONTEXT
NLP Symptom Screener is used anytime non-clinicians (e.g. patients and staff) are requesting, scheduling, and providing healthcare services. It provides a safety-check so that the services provided fit the patient's needs.
The NLP Symptom Screener is used inside the (1) patient's workspace and the (2) agent's workspace.
PATIENT WORKSPACE
As you design your patient space and workflows, insert the NLP Symptom Screening into anywhere that is appropriate. For example, natural places to put it are when patients are checking for lab results, following care coordination steps, or scheduling an appointment.

Here is how NLP Symptom Screener fits in the typical Patient Self-Scheduling workflow:
For more information see the Patient Self Scheduling Whitepaper. Patient Self Scheduling Whitepaper.
AGENT WORKSPACE
Inserting NLP into the agent workspace is easy – whenever the patient has symptoms, the agent or coordinator can click "Patient has symptoms" and the NLP Symptom Screening tool will launch. Insert this at the beginning of the workspace or wherever it best fits your needs.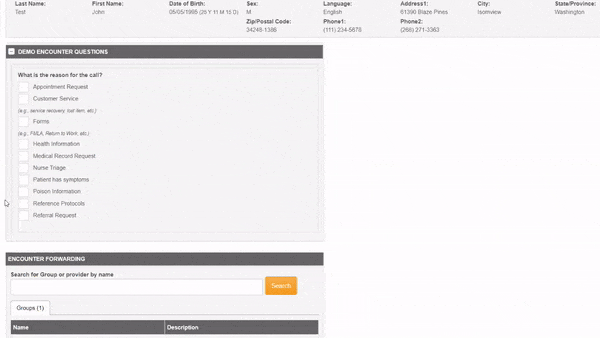 NLP SYMPTOM SCREENING LEADS TO (NOT REPLACES)
HEALTHCARE PROVIDERS
NLP Symptom Screener is designed to let your patients and non-clinical agents quickly and intelligently screen for acuity. But this is far short of clinical decision making. Comprehensive assessment of high-risk problems requires a trained and licensed provider.

Nurse Triage is a Care Desk product that assists nurses with decision support, automated documentation, health education tools, and more.

Messaging Manager automates on-call schedules, provider paging, and EHR messaging for escalations beyond just the telephone triage nurse.