EmergeOrtho provides patient-centered orthopedic care
Office Locations: 45+ in 21 counties in North Carolina.
Providers: 270 highly-trained orthopedic specialists and physicians, and advanced practice providers.
Calls: Doubled in the last two years.
Four top orthopedic practices in North Carolina teamed up in 2016 to form the largest physician-owned orthopedic practice in the state. This alliance is EmergeOrtho, now known as a premier provider and recognized for offering world-class, comprehensive, and compassionate orthopedic services and care.
EmergeOrtho strives to deliver the best orthopedic urgent care, advanced diagnostic imaging, physical and occupational therapy, and other essential orthopedic services.
The Big Picture
Despite its ongoing mission reputation, EmergeOrtho's surgeons and physicians faced bottlenecks from call centers. They struggled to gather patient information and schedule appointments. Other challenges included:
Physicians needed even distribution of appointments.
Patients needed more efficient customer service experiences.
Call center staff needed help dealing with service inflation.
Keona Health's Care Desk empowered EmergeOtho to address these problems. After implementing Care Desk, call volume dropped to controllable levels, staffing pressure dissipated, and scheduling capability improved. Patient satisfaction is now at an all-time high, training costs are low, and provider onboarding is smooth.
Caught in a round robin of miscommunication
The primary challenge that EmergeOrtho faced at many locations was a round robin of miscommunication, which led to high expenses and many errors. Physicians wanted scheduling to be evenly distributed but appointment/triage call center specialists didn't always follow protocols and tended to choose the first doctor they saw.
Critical patient information was also sometimes missed. This resulted in patients being called multiple times, or patients calling repeatedly. Call volume data was massively inflated, and patient satisfaction scores suffered.
This rushed decision-making was a result of increased traffic to the call centers and call center specialists having many duties, including:
Greeting patients and patient check-in.


Answering daily phone calls.


Scheduling, canceling, and confirming appointments per callers' requests.

Reconciling patient requests with appointment protocols.


Preparing and reviewing charts for appointments.


Processing appointment referrals from outside physicians.
Care Desk: a Healthcare CRM
EmergeOrtho decided to implement a healthcare CRM. The user-friendly and intuitive customer relationship management (CRM) platform called Care Desk has empowered EmergeOrtho to deliver more confident and professional service and support.
Results 1: operations benefits
10 more visits per week for most locations: One location, Burlington, saw 7-10 more visits per day.
70% reduced onboarding time: Onboarding patient coordinators takes less than 1 week instead of 3.
95% of calls have decision support guidance for non-clinical agents: Agents are more capable, confident, and dynamic than they were previously.
100% encounter documentation and reporting: Staff can see phone history in patients' charts; requests no longer get lost; and leadership can measure and improve reasonable callback times.

First contact resolution: FCR measures the requests that are resolved on the first contact with service staff. Optimizing this key metric creates greater patient satisfaction, less phone tag, fewer total calls, and less call forwarding.
Results 2: doubled providers and visits with
NO INCREASE in service staff
EmergeOrtho doubled their number of providers and patient visits without hiring any new service staff: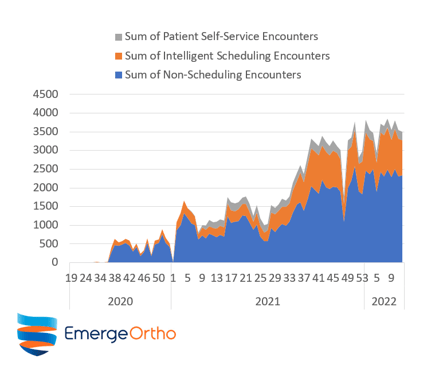 "Care Desk is key to our growth. Outbound calls and total calls per patient are now less," said Karen May, COO for EmergeOrtho Triangle. "We found that first contact resolution increased initial call length, but that was more than offset by reduced total calls per patient. We saw the greatest gains among the slower staff members whose numbers weren't cutting it before but who've become very efficient with Care Desk."
Results 3: timely resolutions
Other benefits of Care Desk include:
Improved patient care.


Increased satisfaction for both patients and physicians.


Automated physician preferences with Provider 360.


Seamless integration with EmergeOrtho's electronic health record (EHR) system.


More efficacious information gathering.


Better balance of workflow and reduced messages for medical assistants.
One major advantage has been the implementation of patient self-scheduling for appointments, surgeries, and pain management. This new process has been quickly adopted and is well-received by providers.
Conclusion
Care Desk's holistic scheduling and patient management capabilities have streamlined operations for EmergeOrtho's call centers.
Care Desk standardizes procedures, simplifies complexities, and eliminates errors. EmergeOrtho can now offer more extensive, effective, and diverse orthopedic services—and that means patients across North Carolina are now stronger, healthier, and happier.
Learn More
Keona Health is the premier healthcare CRM and patient access platform. Contact us if you'd like to learn more about how Care Desk can complement and optimize your EHR system, processes, and protocols.
Contact Us: sales@keonahealth.com www.KeonaHealth.com 919-377-9807