PATIENT SELF-SCHEDULING ONLINE
GUIDED PATIENT SELF-SCHEDULING SOFTWARE, SIMPLIFIED
Empower your patients to schedule their own appointments. Keona's Patient Self-Service Tool utilizes AI-supported Intelligent Scheduling to easily guide your patients through complex scheduling workflows in mere seconds! This essential digital-health tool gives your patients access on your website from anywhere, anytime. Busy patients schedule after hours & without waiting on hold. Increase your patient satisfaction rates by allowing patients to manage their appointments themselves. Meet changin post-COVID patient demands while allowing your staff to operate at their peak efficiency. Without hiring additional FTEs!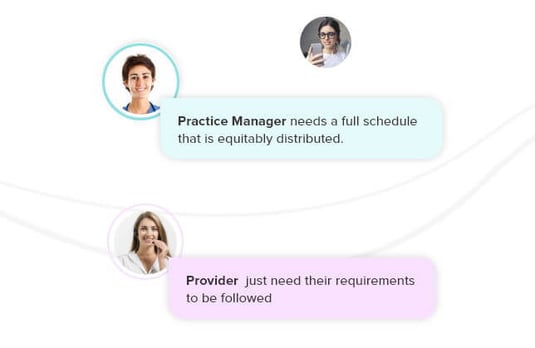 MAKE THE COMPLEX SIMPLE
Before Health Desk Intelligent Scheduling, patients could only schedule the simple, generic appointments. There were far too many variables, preferences & conditions to consider anything more robust. Using AI-Based Intelligent Healthcare Scheduling, this is no longer the case.
Keona's web-based online appointment booking system handles the complexity on the back-end with scheduling logic, patient-physician matching, round robin & so much more. Patients use a simple, easy-to-navigate interface where they answer the questions they need & pick the timeslots that work. Keona's system is able to use insurance, provider preferences, as well as complicated schedules like multiple resources & sequential scheduling to deliver precise and trustworthy appointments without the need for staff resources! Remove the traditional patient-scheduling barriers. It's time to allow your patients to schedule themselves!


GIVE PATIENTS THE CONTROL THEY LOVE
Studies show that 35% of patients favor planning arrangements during non-business hours & 40% of online appointments get booked at night. 3/4 of Millennials pick messaging over chatting on the telephone. Self-booking provides a much higher level of convenience, letting them book at night while coordinating with family members instead of talking to your agents in the middle of their busy workday. Keona will let your patients review available timeframes for themselves, select a date & time, and then they are emailed appointment and confirmation details. Patient satisfaction scores rise as your workload decreases!

REDUCE SCHEDULING COSTS AND ERRORS!
Lack of online patient scheduling has a real, measurable cost for medical organizations. The simplest schedules take 3+ minutes to book & complicated calls take 8 minutes or more! Add to that the fact that the average provider gets over 12,000 scheduling calls/year, you now have a high-cost resource drain!
Because all your organization & provider's complex scheduling requirements are baked into Keona's Intelligent Scheduling Tool, you don't have to worry about common errors & mistakes. Our web-based online appointment booking system gives your patients the control over their schedule they want, while still making sure that your workflow & provider's preferences are followed!



SEAMLESS PATIENTS & STAFF Experience
On the front-end, our white-labeled system fits with all your website style & colors. On the back-end, our robust AI system integrates with all your systems - PM, EMR & otherwise.
Automate Messaging like email & SMS follow-ups. Automate documentation in both PM and EHR as appropriate. Help patients prepare for their appointments with Health Education from your source of choice. Even offer navigation support to your patients with location services integrations! Designed by telehealth-veteran contact-center nurses & engineers.